New and Improved Checkout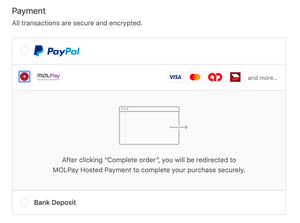 Our new and improved checkout page allows you to conveniently make payment either via PayPal, MOLPay or Bank Deposit.
Simply select PayPal if you wish to pay with your PayPal balance or if you prefer to use credit card for payment. For PayPal balance, simply select this option and sign into your PayPal account to make a direct transfer. For credit card payment, you don't even need a PayPal account, simply select this option and key in your credit card details. This is also the best option for International customers who are not in Malaysia! No additional fees will be incurred by you.
If you prefer direct bank transfer, select MOLPay! This option will automatically link you to all the popular banks in Malaysia. Simply select your bank of choice and it will securely direct you to the bank's login where you will be able to sign in to your bank account and make payment. Our connections and systems are highly encrypted and secure. 
The final method is Bank Deposit. Proceed with the checkout and select this method if you prefer to pay us manually. Our bank details will be provided to you at the end of the checkout page. All you need to do is pen your online bank account and make a manual bank transfer to us, or you can also choose to go to the ATM to do a manual deposit!
Buying silica gels, desiccants and oxygen absorbers have never been more secure and easy.
Click buy silica gel in Singapore and desiccant in Singapore and check out our product range!
2 Responses
Leave a comment